O gerenciamento de relacionamento com o cliente (CRM) é um método e uma estratégia para atrair, reter e aumentar sua base de clientes. O gerenciamento das relações com os clientes inclui as interações com os clientes e a análise de tendências e comportamentos. O CRM tornou-se um termo associado à tecnologia que lida com o engajamento e a análise do cliente. O software de CRM pode acompanhar as conexões e comunicações com clientes em potencial e clientes. 
No entanto, algumas empresas decidiram integrar essa plataforma em seu fluxo de trabalho atual apenas recentemente, enquanto outras querem saber como obter mais da plataforma escolhida. As empresas de consultoria de CRM fazem mais do que compartilhar as melhores práticas e fornecer treinamento de software para sua organização. Os consultores de CRM coletam e avaliam dados para identificar de onde vêm as lacunas de atendimento ao cliente, como resolvê-las e as maneiras pelas quais você pode melhorar ainda mais a experiência do cliente à luz dos novos desenvolvimentos do setor.
Se você está procurando por uma consultoria de CRM, você veio ao lugar certo. Este artigo discutirá 7 líderes em serviços de consultoria de CRM. Mas primeiro vamos dar uma olhada nas vantagens de trabalhar com uma equipe de consultoria de CRM.
---
Avance seus objetivos de CRM com estas 7 principais empresas de consultoria de CRM:
---
Benefits of Partnering with a CRM Consulting Firm 
Here 3 ways in which CRM specialists can be an asset to your business:
They can improve your customer knowledge
A CRM consulting firm can widen your perspective about your target market and existing customers through their industry expertise and deep familiarity with CRM systems.
The CRM team can give advice on choosing the platform that will suit your needs. Or if you have a system in place, consultants can examine your workflow and point you to the features and tools you can optimize for data management and customer engagement.
Another advantage of hiring CRM consultants is access to experts who can study and explain the implications of the data that your CRM system collects and saves. Consultants can also check your current operations to assess where and how customer churn or loss occurs in your business.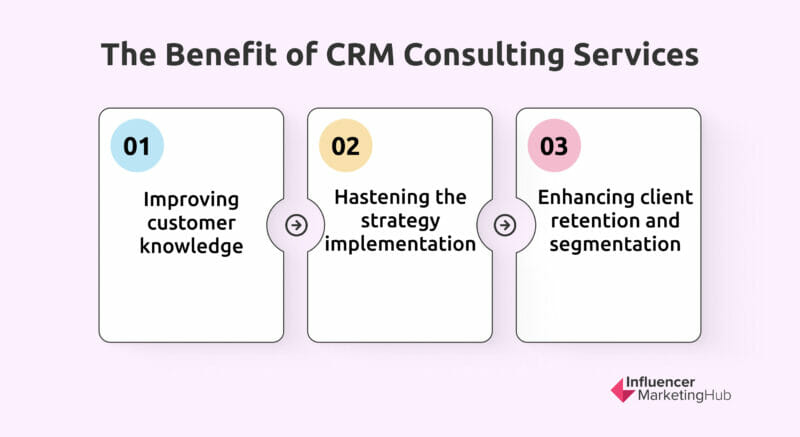 ---
They help hasten strategy implementation
When consultants provide recommendations for improvement or change, they also present a timeline for accomplishing their suggested action plan.
The presence of a CRM consultant or consulting team brings a sense of urgency to follow through with the strategy. At the same time, you can move forward with confidence, knowing that these experts are around to guide you through each step.
Consultants can advise ways to make your leads and clients complete the lead cycle more swiftly. These experts also know when you have to tweak your strategy using data on client behavior.
---
They enhance client retention and segmentation
CRM consulting companies suggest ways to help you identify and nurture prospects, keep your loyal patrons, and reach out to former customers. These agencies also train you and your team on using your chosen CRM solution to classify your clients into criteria and categories. Doing so will allow you to create more targeted marketing campaigns per customer segment.
---
Top Performing CRM Consultancies
Below are seven companies with a good track record in CRM consulting. You will need to contact consultancies directly regarding their rates, as only a few indicate how much they charge.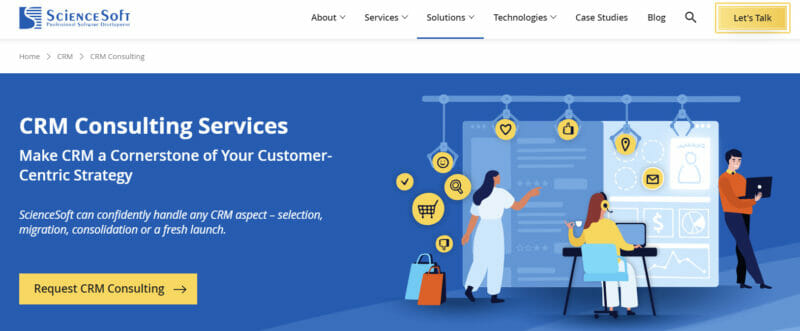 ScienceSoft, which has been offering CRM services for 14 years, helps companies with the various aspects of CRM, from selection and custom development to implementation, improvement, consolidation, and migration. The CRM agency is a Microsoft, Salesforce, and Oracle partner and works with healthcare, banking, retail, manufacturing, eCommerce, and accounting brands.
ScienceSoft's 4-step consulting process consists of the following:
Conceptual stage – audit of current CRM system and processes, problem identification, the study of company policies, goal identification, CRM process design, user role description, CRM platform selection, creation of integration architecture
Pre-implementation stage – scoping of project duration and cost, risk and mitigation study, assessment of historical customer data (amount and quality), formation of the implementation team, and user adoption strategy planning
Implementation stage – (depending on the chosen service – software launch, consolidation, migration, or revamp) customization of CRM solution, building custom features and workflows, integration of CRM with corporate systems and customer touchpoints, migration of historical customer data, and CRM software testing
Post-implementation – user training, evaluation of goals, assessment of CRM system's adoption by your team, planning of roadmap for CRM evolution in line with your business plans
ScienceSoft's rate for developing custom solutions for over 10 employees or users starts at $15,000. Meanwhile, its enterprise rate (for over 1,000 users) costs around $250,000.
The company's main office is in Texas, but it also operates in Europe and the UAE.
---

Ascendix offers customized consulting services and ready-to-use software in the following areas using Salesforce and Microsoft Dynamics 365:
Strategizing and road mapping – solution assessment and platform selection based on business needs
Implementation – consolidation, data cleansing, team coaching
Customization – tailor-fitting dashboards, workflows, plug-ins, form scripts, business processes, and reports
Migration and transformation – data transfer and tracking 
Integration – incorporation of the CRM solution with your other software and apps
Sales and marketing – inefficiency reduction, automation of daily activities, insight generation
Software development – the creation of a customized CRM system 
Support and administration – guidance for troubleshooting, maintenance, and system upgrades and updates
Ascendix operates in the US, Portugal, and Eastern Europe. Its consultants have extensive experience in property, insurance, financial services, legal services, and capital markets, to name a few.
A decade after it started offering CRM consultancy in 1996, Ascendix began developing real estate-focused CRM products. Their lineup includes:
Ascendix Search

– search and mass action capability for Salesforce-run platforms at $15 per user (mass edit Salesforce records, create and send tasks and emails in bulk, create call and marketing lists, among others)

AscendixRE CRM for commercial real estate

– contacts, deal, and pipeline management at $79 per user; also includes mapping tools, stacking plans, and commission splits

MarketSpace for AscendixRE

– property listing portal for investors and prospective tenants where you can share financials, exchange feedback, and close deals

AscendixRE for Capital Markets

– a hub for tracking capital sources, investors, lenders, deals, and communications.

AscendixRE Land CRM

– for land brokers starting at $79 per user
---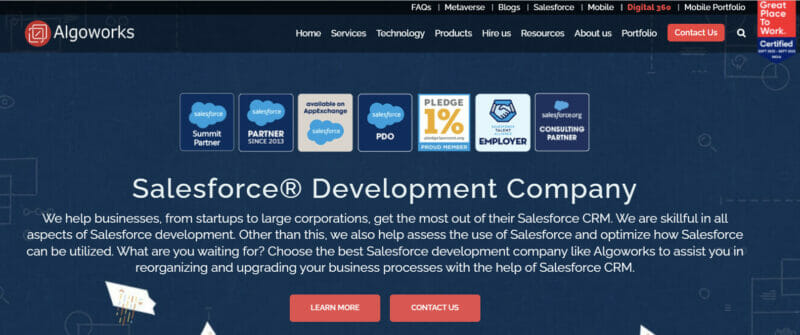 Algoworks is a Salesforce Gold consulting partner that guides businesses with the various aspects of using the software: 
Consultation – offers expert advice on the right time to adopt a new CRM solution or how to optimize your current Salesforce platform
Development – plans and designs tools in line with your industry
Customization – personalizes software for internal teams and customers
Integration – connects Salesforce with your existing platforms
Migration – explores and deploys tools for manual and script-based data migration using Salesforce databases
Training and Support Services – train your sales team and other departments about the system's functionality and assist with updates
In particular, the company helps brands use these tools under the Salesforce Marketing Cloud for more satisfactory client journeys and stronger ties:
Marketing Cloud Connect

– for personalizing content

Analytics Builder

– for analyzing client behavior and consumer interests

Content Builder

– for managing content across various channels 

Personalization Builder

– for recording your buyers' purchase preferences to customize marketing

Audience Builder

– for segmenting long mailing lists

Journey Builder

– for marketing campaign planning based on communication patterns,

click-through rate

calculations, and channel metrics
Established in 2006, Algoworks has clients in retail, banking, manufacturing, IT, healthcare, telecom, logistics, education, and other industries in the US, India, and Canada.
---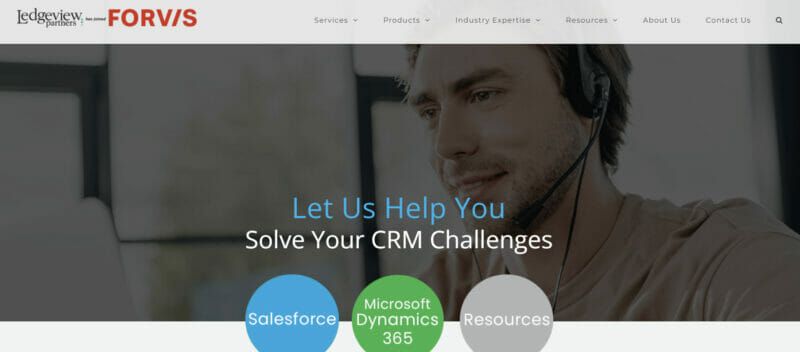 Ledgeview Partners specializes in Microsoft Dynamics and Salesforce solutions and models personal and friendly customer service through hands-on support and efficient documentation. Its services cover strategy, planning, design, implementation, training, and support.
The company boasts of finding solutions to challenges that keep companies "up at night." Ledgeview aims to help businesses:
Align collaborations between marketing and sales teams

Develop results-driven sales processes

Conduct lead scoring to produce more sales-ready prospects

Customize CRM solutions to manage their sales pipelines 

Discover functions and benefits of MS Dynamics and Salesforce

Optimize CRM platform for client retention and growth

Widen customer data access through mobile apps

Improve customer service case tracking and resolution

Provide training to ease CRM system adoption
Ledgeview has developed tailor-made strategies and software for manufacturing, healthcare, construction, oil and gas, and entertainment brands as well as non-profits. In March 2022, the agency became a part of BKD Technologies.
---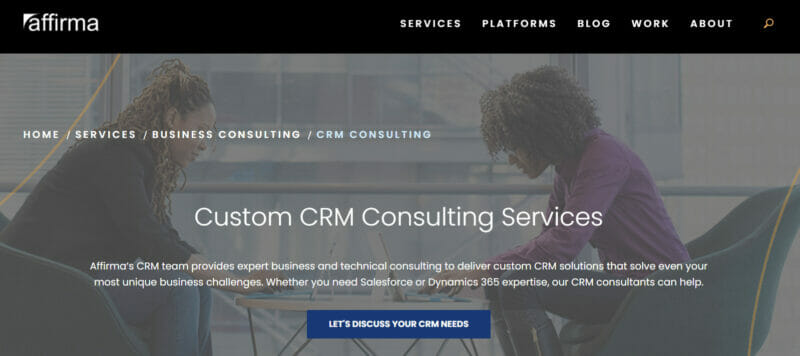 Affirma Consulting's MS Dynamics 365 and Salesforce-certified consultants are ready to extend their business and technical competence, no matter where your business is in its CRM journey. The company is also a HubSpot Gold Partner, using the system for lead generation and higher revenue generation through marketing automation.
Affirma's services cover assessment and strategy for CRM selection or migration to customizing the platform, training users, and designing your customer service processes to optimize your marketing strategy and improve your pipeline management. 
Affirma also ensures that your CRM solution integrates properly with your existing systems and scales with your company. Its managed services cover:
Comprehensive quality assurance

Training

CRM platform maintenance and support 

Continuous strategy and business alignment

Improving processes for customer service, sales, and IT
This multi-awarded Washington-based agency started in 2002 and also has offices in Romania, Ireland, and India.
---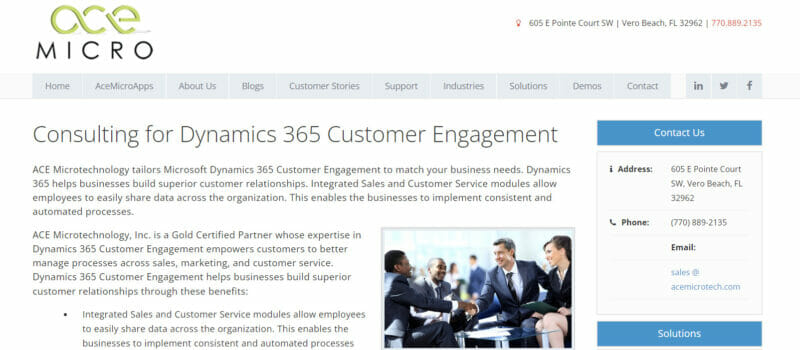 ACE Microtechnology caters to the CRM needs of medium to large-sized businesses through automation tools created via Microsoft Dynamics for nurturing customer satisfaction and loyalty. The agency also develops on-premises or cloud-based solutions that use business intelligence and campaign management for marketing effectiveness and sales productivity.
ACE Micro can personalize Dynamics 365 Customer Engagement to help streamline processes across your customer service, marketing, sales, and accounting teams. The company also develops mobile CRM apps and tools to integrate social media data and reports from social channels into your CRM solution. 
With the mantra to "make it our business to know your business," the Florida-based firm does a deep dive into the operations of their manufacturing, distribution, and hospitality clients to produce industry-standard tools.
---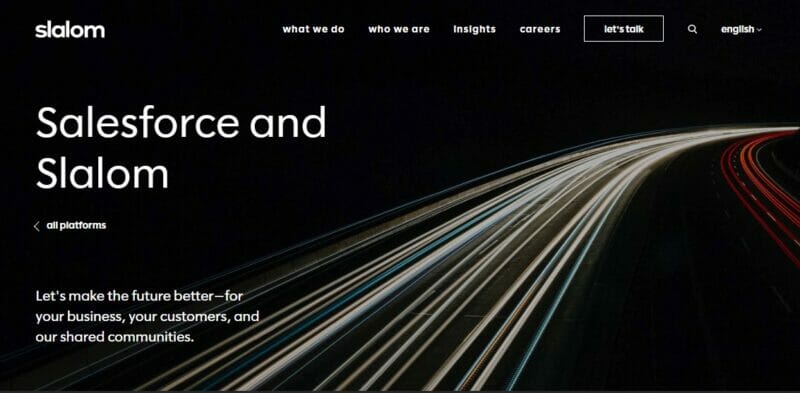 Initially focused on business management consulting, Slalom's suite of services has expanded to technology enablement and organization effectiveness, which are at the core of CRM. 
Its Salesforce partnership is crucial in delivering the company's promise of "Building better tomorrows for all." However, more than their technical knowledge, Slalom consultants are marked by:
Customer intimacy

– with offices across the US and operations in Australia, Canada, the UK, Germany, and Japan; speed-conscious, outcome-driven, and deeply invested in your long-term success through knowledge-sharing

Momentum

– due to mastery of multi-cloud implementations across integrations, industries, and clouds

Future-proofing

– as a result of strategy and change management expertise

Tableau excellence

– Slalom was named the 2022 Partner of the Year of business intelligence software Tableau, which Salesforce acquired in 2019
The CRM agency's consulting services cover process and experience design, platform integration, Salesforce implementation, data management, and analytics.
---
---
Tips for Choosing a CRM Consulting Company
Can't decide yet if you need a CRM consulting firm's services? These tips might help: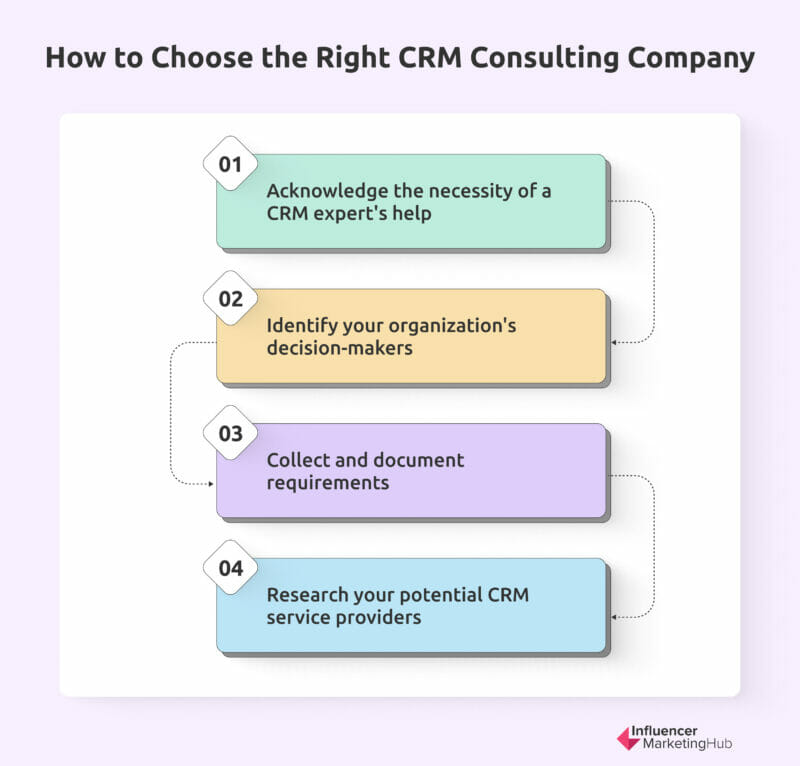 1. Acknowledge the necessity of a CRM expert's help
It's time to hire a CRM consultant or consulting team when you need to know:
How to make a CRM work with your existing business tools, upgrade an outdated system, or overcome challenges with your current platform

How you can use your CRM to reach your marketing and sales growth goals

Why you're slowly losing your long-time clients 

What your customers' most prominent pain points are
---
2. Identify your organization's decision-makers to get their input and buy-in
Each department works and faces issues differently. Know who you should approach in each division to determine your company's current CRM challenges and what they hope to overcome.
---
3. Collect and document requirements
Ask your point persons to list down ongoing issues and long-term goals.
---
4. Research your potential CRM service providers
Nossa lista acima espera dar a você uma vantagem. Descubra se a agência de consultoria de CRM tem experiência em suas atuais áreas de dificuldade. O site da empresa normalmente compartilha sua especialização, metodologia e capacidade.
Além de revisar suas páginas na web, verifique os canais sociais oficiais da consultoria. É provável que você obtenha dicas de postagens e comentários sobre os problemas que elas normalmente resolvem.
Não se esqueça de visitar os sites de avaliação — eles oferecem informações adicionais sobre as credenciais de uma empresa de consultoria.
---
Obtenha conhecimento de CRM
Você precisa de mais informações sobre sistemas de CRM antes de vender a ideia de usar um para sua equipe ou contratar uma consultoria? Saiba mais em nosso recurso: " 10 dos melhores softwares de CRM para pequenas empresas ."