Nos últimos três anos, centenas de locais de trabalho passaram de locais para remotos. Essa transição afetou significativamente a maneira como as empresas se relacionam com os funcionários. Além disso, tornou a comunicação no local de trabalho uma prioridade entre os líderes empresariais. Uma pesquisa de 2022 da Project.co mostrou que 74% das empresas começaram a usar novas ferramentas de comunicação e organização nos últimos 12 meses.
A comunicação no local de trabalho aumenta a produtividade, a motivação e a satisfação dos funcionários. Equipes bem conectadas são mais produtivas e 21% mais lucrativas do que organizações mal conectadas.
Por outro lado, a falta de uma estratégia de comunicação eficaz corre o risco de desengajamento dos funcionários. Isso pode resultar em menor moral de trabalho e uma maior taxa de rotatividade. Além disso, o custo da má comunicação interna é um preço alto a pagar. Um relatório da Gallup descobriu que o baixo engajamento no local de trabalho é um golpe de US$ 7,8 trilhões para a economia global.
Como resultado, escolher uma ferramenta de comunicação empresarial pode ser difícil. Existe uma grande variedade de softwares de comunicação por aí. O desafio aqui é encontrar um que se adapte à sua organização. Uma visão geral abrangente das melhores plataformas de comunicação no local de trabalho é fornecida neste artigo. 
---
9 Ferramentas de Comunicação Corporativa para Aumentar o Envolvimento dos Funcionários:
---
O que é uma Ferramenta de Comunicação Corporativa?
A corporate communication tool is a software or app that drives interaction between a company and its stakeholders (i.e., employees and customers). This platform allows employees to collaborate, share documents, initiate and manage projects, and provide feedback. At the same time, it automates updates and messaging for customers. There are two types of corporate communication tools.
Internal communication tools
Internal communication tools cover interactions within the organization. They help business leaders manage their relationships with stakeholders, which include the organization's employees, contractors, and freelancers. 
Some of the most common interactions for these stakeholders are all-hands meetings, company memos, and organizational updates. As such, the main channels for internal communication are video conferencing platforms, project management or intranet software, collaboration tools, and team chat or email and messaging apps. 
External communication tools
On the other hand, platforms for external communication are for stakeholders outside the organization, such as customers, partners, and subscribers. These stakeholders usually interact with businesses for information and inquiry, as well as browse and explore products and services.
As such, the usual communication channels are customer relationship management (CRM) platforms, media, and press relations software, email marketing tools, and live chat or help desk software.
---
The Importance of Corporate Communication Tools?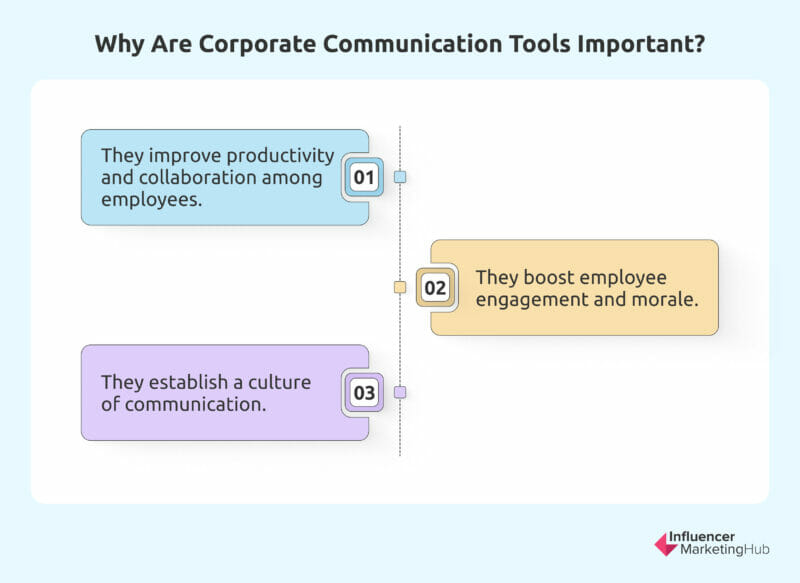 They improve productivity and collaboration among employees
A survey by Expert Market shows that improved communication technology and skills can increase employee productivity by 30%. Communication software not only drives collaboration but also promotes innovation. Most collaboration platforms, for example, allow stakeholders to brainstorm ideas and offer comments and feedback. They also allow employees to work on documents synchronously, lessening response waiting time.
They boost employee engagement and morale
A 2022 Buffer report cites feelings of loneliness as one of the challenges that remote workers face. This can lead to workplace disengagement, which can negatively affect employee morale. Employees are kept informed and connected via internal communication tools within minutes. Video conferencing platforms also have features to engage remote workers, such as a collaborative whiteboard, filters, and a chat box.
They establish a culture of communication
In a traditional workplace, teams work in bubbles and seldom interact with other departments. Corporate communication tools, on the other hand, encourage organization-wide collaboration. This keeps internal stakeholders on the same page, breaking down team silos. Employees can also effectively communicate with external stakeholders since they can openly interact with one another. They increase employee and customer retention.
Employees in well-connected organizations are 4.5 times more likely to stay in their company. That's because effective communication makes employees feel welcomed and supported. Likewise, external communication tools make organizations more accessible to stakeholders. This ultimately makes customers feel valued, establishing trust that eventually leads to customer loyalty.
---
Top 9 Corporate Communication Tools
Corporate communication tools are so diverse that most companies don't settle for just one. Instead, they use a combination of internal and external tools. With that said, be careful in choosing too many platforms as that can be confusing. The rule of thumb is to choose a software that your organization needs.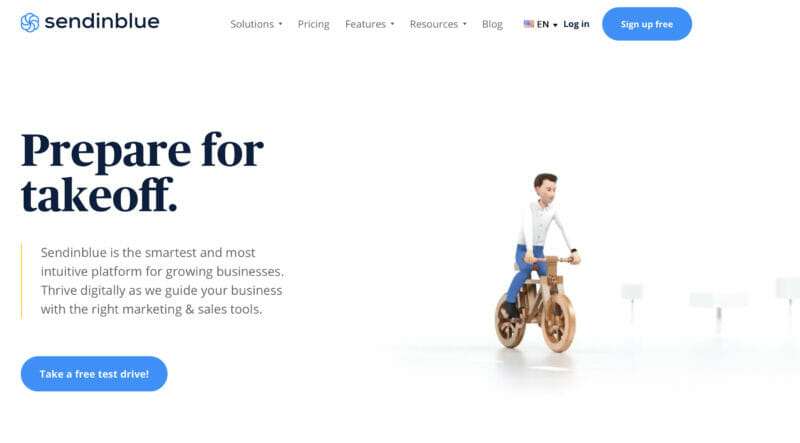 In 2012, Sendinblue founder Armand Thiberge wanted all businesses to have access to the most effective marketing platforms. Today, Sendinblue is an all-in-one solution that offers digital marketing, chat, sales CRM, and transactional emails. Furthermore, it has over 500,000 active users in more than 180 countries and is perfect for businesses of all types and sizes.
Notably, Sendinblue lets you grow your business through unique marketing campaigns. You can track your deals in one place, personalize your customer experiences, and send transactional emails without leaving the platform. Additionally, you can get real-time statistics to help you stay on top of your campaigns. Regardless of your technical setup, you can integrate Sendinblue with e-commerce tools. 
Some of the platform's features include email and SMS marketing, landing pages, live chat and chatbots, an inbox, and an email Application Programming Interface. It has a free plan all for all of its solution offerings.
---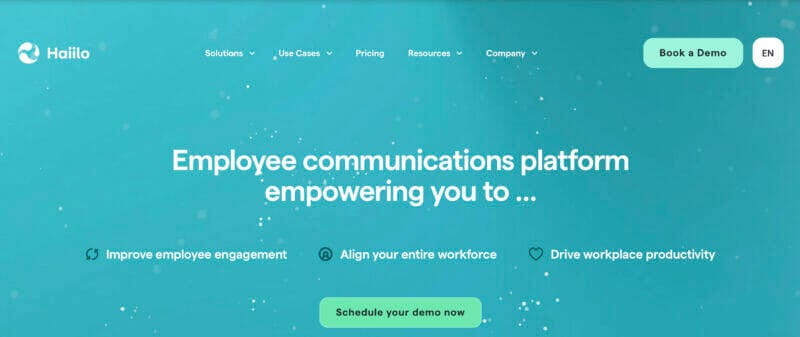 Haiilo was the result of a merger between three European companies. This internal communications platform founded only in 2022 caters to over 1,000 companies and 3.5 million users across the globe. It offers over 560% more social media reach, five times more engaged users, and 23% less employee turnover.  
Haiilo's features include a modern intranet to build reach and engagement among employees. It also has an employee app, where internal stakeholders can publish content in one place and create engaging emails, no matter where they are. Haiilo's engagement surveys also help reduce the turnover rates through smart employee surveys and actionable recommendations. Furthermore, its employee advocacy turns stakeholders into brand ambassadors and helps attract new talent.
Moreover, Haiilo's integrations allow you to streamline your internal communications on all channels. The platform has integrations for Microsoft 365 and Google Workspace. You can also connect your entire digital workplace with Haiilo Marketplace, which lets you extend your intranet.
---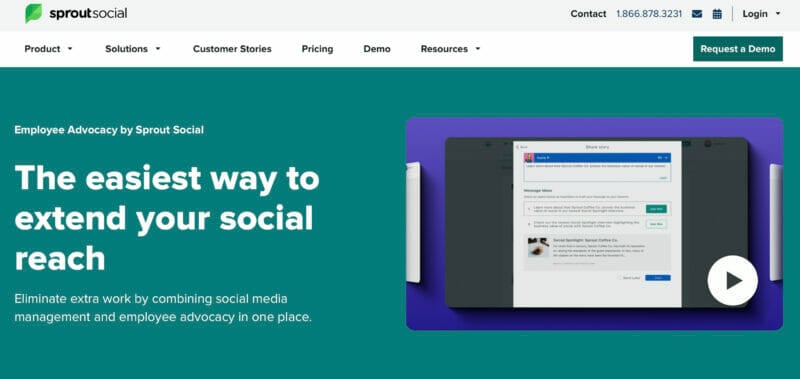 Founded in 2010, Sprout Social is notable for its social media management solutions. It offers social analytics, engagement, publishing, listening, collaboration, and automation for organizations of all sizes. Its seamless integration further allows you to access all your organization's content and data in one place.
With its employee advocacy platform, it can not only manage your social media campaigns but also attract new talent, generate industry leaders, and drive brand awareness. This also eliminates manual processes, streamlining your organization's internal communications. Moreover, this drives additional revenue without increasing your ad budget.
Employee Advocacy by Sprout Social lets you quickly publish and share content in one place. You can also draft pre-approved message ideas that maintains your brand voice. With its targeted communications feature, you can also broadcast content to a specific audience within your company. On the other hand, employees can explore and suggest topics that are relevant to them. Finally, you can measure and optimize your data to bolster your marketing campaign.
---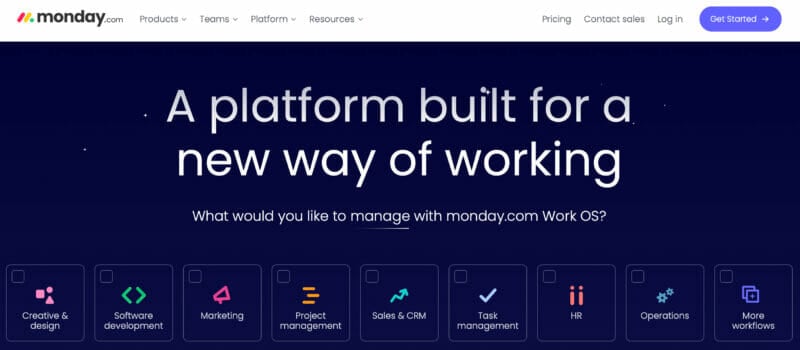 Monday.com first began as a solution to the challenges that come with quickly scaling organizations.  Today, it is an award-winning platform with 152,000 customers around the world. With its intuitive automation and real-time notifications, Monday.com streamlines your work processes, keeps employees in the loop, and puts the whole organization on track. 
Monday.com's products include a work management platform for project management and workflow automation. From sales pipeline to customer onboarding, you can manage all your work on Monday's easy-to-set-up sales CRM. Marketing and creative professionals can also use the Monday Marketer to launch and manage campaigns. You can also collaborate on any project or portfolio with Monday Projects and build products faster with Monday Dev.
Some of Monday.com's features include a visual board where you can manage your projects and departments. With work docs, teams can also connect and collaborate across one another and in real time. Furthermore, the collaborative management software seamlessly integrates with tools that you're already using.
---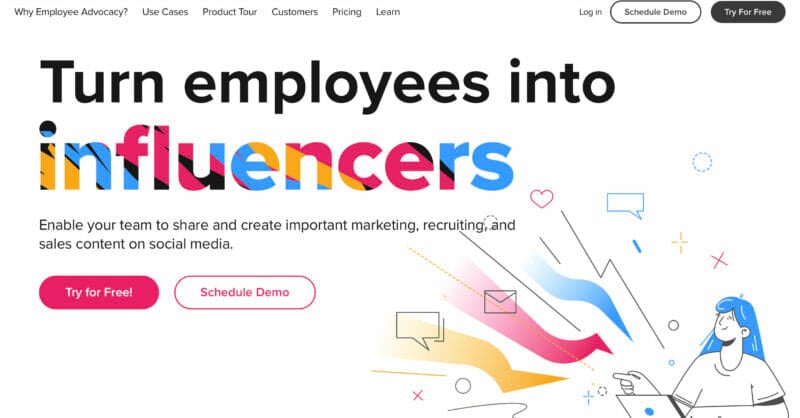 EveryoneSocial's mission is to activate the organization's network of employees. This means providing them with the means to drive growth in every aspect of the business. In turn, this saves the company some money, creates organic growth, and engages employees. You can activate your employee influencers in four steps, beginning with setting up your workspace.
EveryoneSocial focuses on consistency, community, engagement, and reach. It simplifies important messages and keeps everyone up to date on projects. The platform is designed for inclusivity and also offers various ways to send content and messages, so that it meets the preferences of all demographics. Through purpose-driven content consumption and sharing, EveryoneSocial helps you foster positive engagement and culture through employed activation.
EveryoneSocial's Starter plan is free forever. Your marketing efforts will be tracked macro and micro through its features, including the creation of authentic content, sharing with any network or contact, and generating macro and micro reports. The platform offers complete visibility on audience-targeted content and brand ambassadors.
---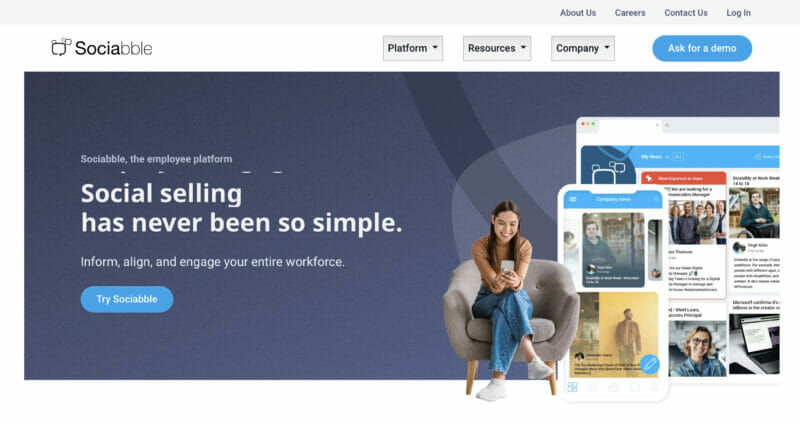 Sociabble connects your employees across devices and increases your reach and traffic on social media. Ranked by users as a leader in employee communications, advocacy, and engagement, the platform has a 90% satisfaction rate from audiences. Its goal is to engage employees by keeping them better informed on company updates. This software tool launched in 2014 currently has users in 180 countries.
With Sociabble, you can reach your audience with targeted content, keep your employees engaged, and improve employee retention. You can also increase your reach by over 560% by turning your employees into real brand ambassadors. Moreover, you can generate twice more of your existing pipeline by leveraging your employees' social networks for prospecting. It integrates with over 300 platforms.  
---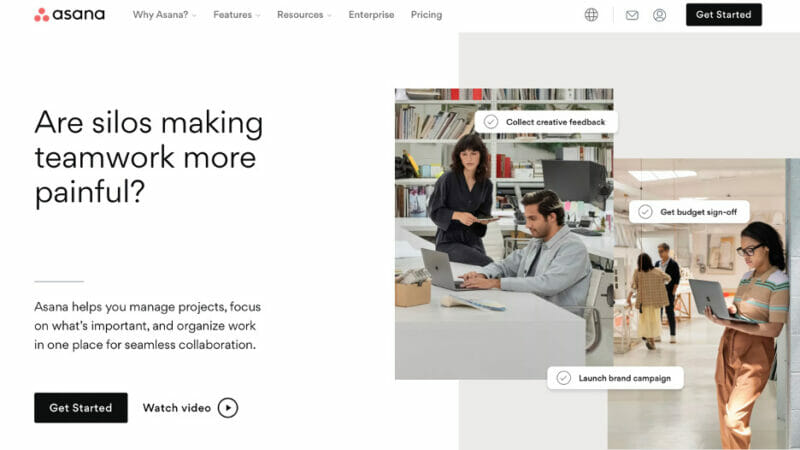 Asana is a leading collaborative project management software. International Data Corporation reports that it has improved employee satisfaction by 72% and on-time completion by 34%. One of the best internal communication tools, Asana drives cross-team efficiency, automates workflows, and monitors progress in a single view.
Asana supports any team and workflow. Plan and execute your marketing campaigns in a single platform. You can also track your team's performance against your company objectives and align them. Moreover, the platform's 200 integrations let you easily sync changes to your product roadmap and planning. You can even monitor and track your initiatives' performance on the platform.
Furthermore, Asana protects your sensitive data with two-factor authentication. Whether its planning a marketing campaign or a product launch, you can quickly get started, thanks to Asana's ready-made templates.
---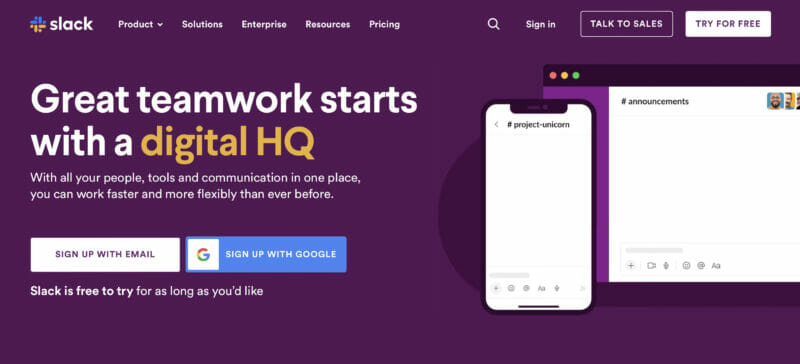 Slack is a digital-first work ecosystem that caters to businesses of different shapes and sizes. A survey shows that 85% of weekly Slack users have improved communication, while 88% feel more connected to their teams. Currently, the platform has over 200,000 paid customers in 150 countries. Almost 80% of the Fortune 100 choose Slack as their digital headquarters.
Slack brings sales, marketing, and project management into one platform. It offers services to all kinds of teams and industries, including education, media, financial services, and retail. Its channel feature keeps employees focused and organized. With Slack Connect, messaging, huddles, and clips, teams can quickly come together, collaborate, and solve problems in real time. You can even connect to teams from other organizations the same way you connect to your team.
Finally, Slack has over 2,500 apps, which lets you build integrations and automate your workflow. Slack's free plan includes 10 integrations, access to recent message history and one-to-one audio and video conversations plus screen sharing.
---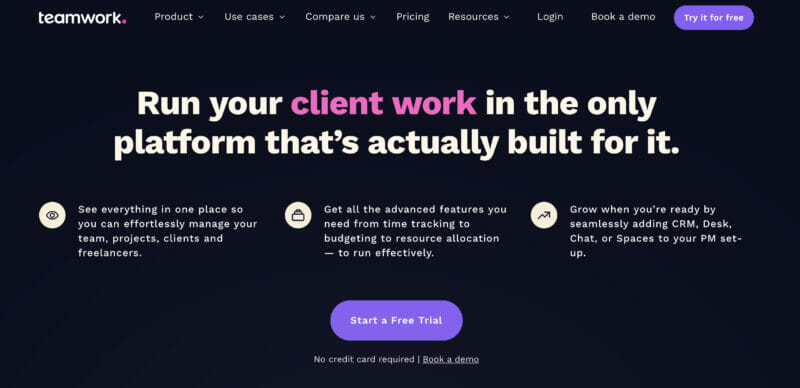 O Teamwork é uma plataforma de trabalho e gerenciamento de projetos que oferece comunicação perfeita, colaboração aprimorada e retorno rápido de projetos para equipes internas e remotas. Oferece principalmente soluções para trabalho remoto, agências e equipes de marketing, equipes de produto, gerenciamento de trabalho e desenvolvimento de produto. Tem a confiança de mais de 20.000 empresas em todo o mundo.
O espaço de trabalho da plataforma permite que você se concentre no gerenciamento de projetos, enquanto sua solução de mesa ajuda a gerenciar as solicitações e as comunicações dos clientes. Ao mesmo tempo, você pode fechar negócios e aumentar sua receita com o CRM de vendas da plataforma. O Teamwork Spaces, por outro lado, permite a integração perfeita com qualquer software de planejamento.
---