O software de vendas de IA é uma ferramenta de marketing revolucionária que mudará o jogo para as equipes de vendas nos próximos anos. Isso significa que o software de vendas de IA ajudará as equipes de vendas a fazer mais do que fazem de melhor – conversar com os clientes e aprender sobre as necessidades dos clientes – enquanto automatiza as tarefas mais repetitivas envolvidas nas vendas. Além disso, o software de vendas de IA pode ajudar as organizações a descobrir novos leads e fechar transações mais rapidamente.
A promessa de automação da IA ​​atraiu muita atenção, mas antes de começar a usar a tecnologia de IA, vale a pena avaliar sua estratégia de marketing atual para ver onde você pode integrá-la aos seus processos e operações. Continue lendo para descobrir como a tecnologia de IA pode fazer a diferença em seus esforços de marketing e como ela pode oferecer suporte a uma experiência perfeita do cliente.
---
5 opções de software de vendas de IA que podem ajudá-lo a vencer no mercado em 2023:
---
O que é uma ferramenta de software de vendas de IA?
O software de vendas de IA é uma ferramenta que ajuda as equipes de vendas a automatizar tarefas comuns, revelando potencial e eficiência. Ele combina dados de clientes, inteligência de mercado e algoritmos de aprendizado de máquina para personalizar conversas e fornecer insights que aumentam a taxa de sucesso das equipes de vendas. As ferramentas de software de vendas de IA permitem que os usuários entendam melhor as necessidades do cliente e forneçam experiências personalizadas com o conteúdo certo no momento certo para gerar resultados mais bem-sucedidos.
---
Como eles funcionam?
Every AI sales tool works differently. However, there are some common features that all AI sales software tools share. In general, these tools provide users with an automated way to identify leads, track customer interactions and activities, as well as manage marketing campaigns. Artificial intelligence can be used to analyze customer data and generate insights regarding customer behavior or preferences to create more personalized experiences. AI-driven automation can also help sales teams manage tasks like scheduling meetings or sending follow-up emails.
---
The Top 5 AI Sales Software to Watch Out For
Whether you have a sales assistant or a team of sales reps, AI sales software can help you be more efficient and effective in your day-to-day operations. Here are five of the most promising AI sales tools to watch out for: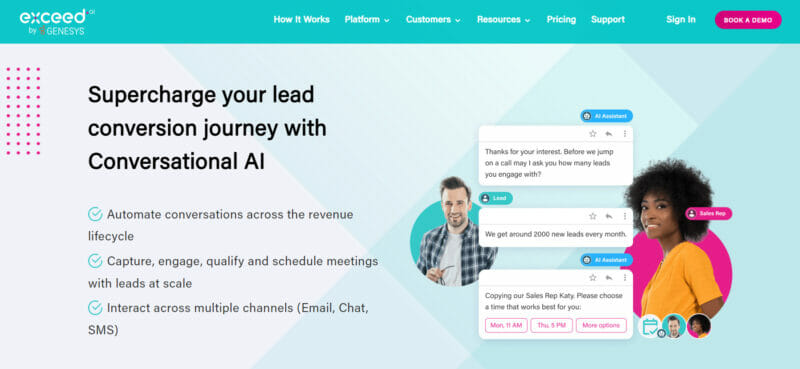 You can conveniently use conversational AI to accelerate lead conversion with Exceed.ai. As a chat-based sales software, your sales representatives are provided with an easier way to improve their sales productivity and efficiency by automating your revenue lifecycle conversations—from prospecting and engaging potential leads to nurturing and closing deals. All this is done through multiple channels (chat, email, and SMS) that make the sales process smoother and help you track customer preferences and needs in a more efficient manner.
Exceed.ai uses natural language processing (NLP) and machine learning to understand customer interactions and provide relevant responses, updates, and recommendations. With personalization capabilities that leverage firmographics and user profile data, you can create a one-of-a-kind experience tailored specifically for each lead—allowing you to convert them into loyal customers. It gathers insights on the interests of your leads, capturing their attention while building trust through personalized interactions. Moreover, you can integrate this tool with top CRM software such as HubSpot, Salesforce, and Zendesk to streamline the tracking of customer relationships. 
---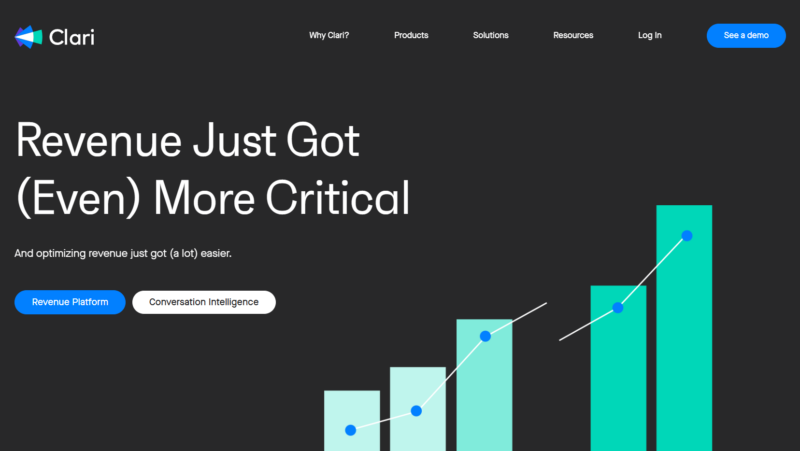 With Clari's sales platform, you can stay on top of your entire organization. Their AI-driven system synthesizes data from emails, conversations, and calls to provide detailed sales forecasts and insights, helping you make better decisions faster. It helps sales teams predict future performance by automatically tracking customer interactions, identifying trends in customer conversations, and understanding what works best for your team. You can be more updated and informed on activities for increased predictability of revenue performance throughout the year.
Clari enables teams to gain total control over their pipeline and transactions, giving a clear picture of every single deal at any given time. You can easily keep track of deals and their progress to get a better sense of where they stand. This provides sales teams with an extra layer of visibility so that they can make more informed decisions about their next steps. In addition, it offers features such as lead scoring and social selling, which can help sales teams develop more effective sales strategies. 
Moreover, its powerful integration capabilities deliver vital information about rep performance for improved coaching practices that help keep targets in sight. For optimum pipeline management, you will receive notifications when something changes in your pipeline or when a deal is at risk, providing you with real-time insights into the overall health of your business. 
---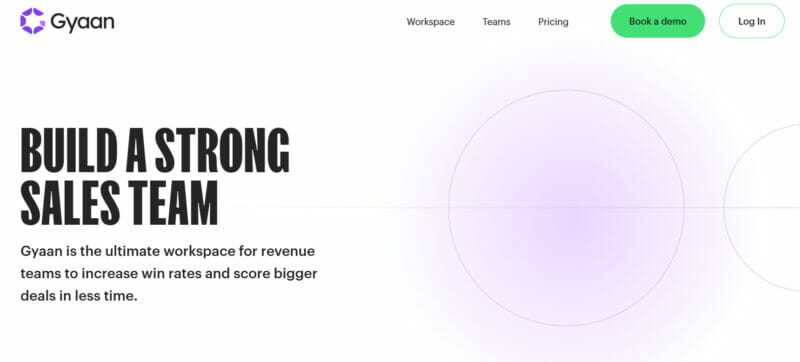 Gyaan is one of the most popular AI sales software solutions on the market. It offers a streamlined workflow and a wide range of features that make it a convenient and effective tool for sales teams. It can be used to track leads, contact info, and sales pipeline data, making it a powerful tool for sales professionals. So you can save time and energy by using their platform from day one instead of cold calling or emailing potential candidates.
When it comes to team collaboration, Gyaan allows sales reps to comment and share data on deals and potential bound traffic in just one tab. This helps them identify which customers are likely to convert, allowing them to focus their energy on those prospects. With the AI-driven insights Gyaan provides, you can keep all data regarding deals, emails, notes, and conversations in one place for quick analysis of your customer's pain points and needs. Using these strategies can help you secure wins faster than ever before. 
Get the insights you need at just the right time and stay ahead of the competition by understanding buyer pain points more deeply and offering genuine value-added solutions that they'll find nearly impossible to resist.
---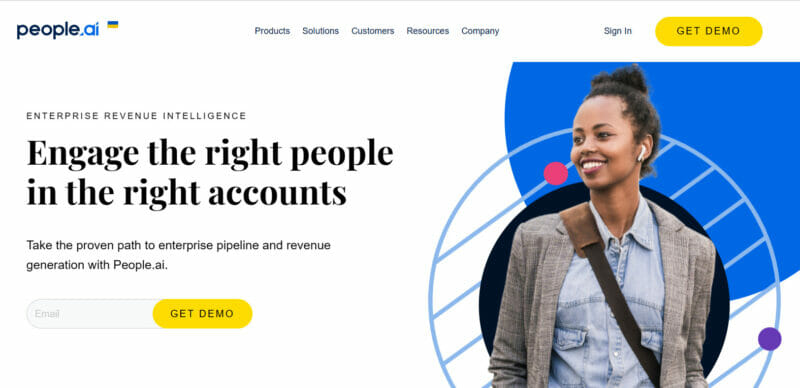 People.ai is a sales software that can help small businesses manage their sales team. It is deeply rooted in unlocking the value of relationships because its features can help you better understand which personas to engage with, as well as when and how to engage with them. This can enable you to develop more strategic plans in pursuing large deals and driving revenue opportunities from your accounts faster than ever before. 
The team behind People.ai believes in putting people at the center of every business opportunity to gain insight into key stakeholders who can increase your win rate and deal size, to identify their engagement level, and to influence a given decision process and common buying groups—without having to guess or assume their buying habits or preferences.
With People.ai, you can manage sales pipelines, lead management, and customer tracking to improve and unlock predictable results. It offers powerful account planning capabilities, white space analysis solutions, and relationship mapping insights, that can help you maximize revenue from key accounts and assess the most direct route to the buyer's purchase. Scorecards enriched with People.ai data can create detailed insights of each customer's unique buyer journey. This can equip sales teams with more information before they pursue a lead. 
Furthermore, People.ai's platform can generate a more accurate forecast of future deals by helping identify new opportunities, track customer buying signals, and measure competitor activity. They can provide the actionable forecasts and insights that teams need to make smart decisions quickly and confidently—saving time and money while increasing visibility within target accounts.
---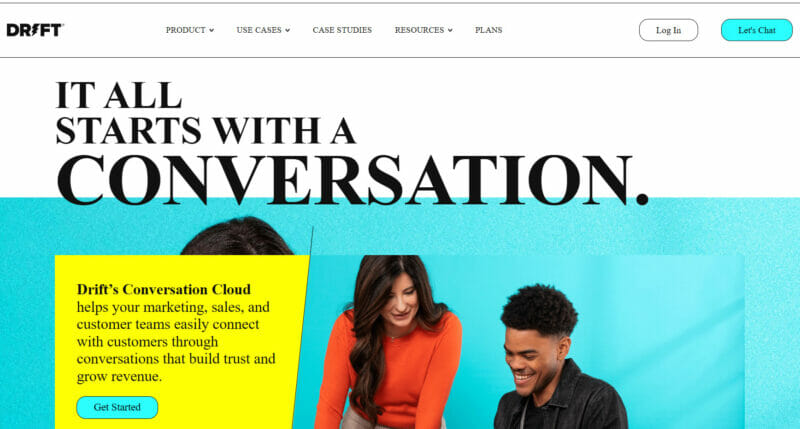 The cloud-based and AI-enabled sales software Drift automates sales processes that help sales teams manage sales data, assign tasks, and track results. Whether you have a small business or a large enterprise, you can use Drift to streamline your sales funnel and drive better results.
With the aid of real-time data insights, Drift helps your team members close sales faster by helping them start conversations, generate valuable leads, and target key accounts. Knowing which accounts need attention is simple through its built-in prospecting tool that provides up-to-date engagement stats. Moreover, its messaging, chat and video tools can be used for meaningful customer interaction. Drift also makes scheduling meetings easier thanks to its integration with Google Calendar, taking care of all your communication needs. 
With Drift, sales teams can capture more leads with AI-powered chatbots that engage customers on their own terms. It also provides a consolidated view of activity so you can survey customer feedback, analyze patterns, and draw insights for future campaigns. Drift also allows easy lead segmentation to ensure relevant messaging is sent to the right people. This makes it easier to increase conversions and close deals faster. With Drift, you have everything your sales team needs—sales processes automation, data tracking, and customer engagement via a chatbot—all in one place.
---
What to Look for in AI Sales App Software 
The market is changing fast along with sweeping technological advancements. Every sales manager and their respective sales cycle is different, and just about any sales software program may not be the most suitable tool for a particular manager. But there are a few key features that any AI sales app should have to add value to those managing sales enablement teams.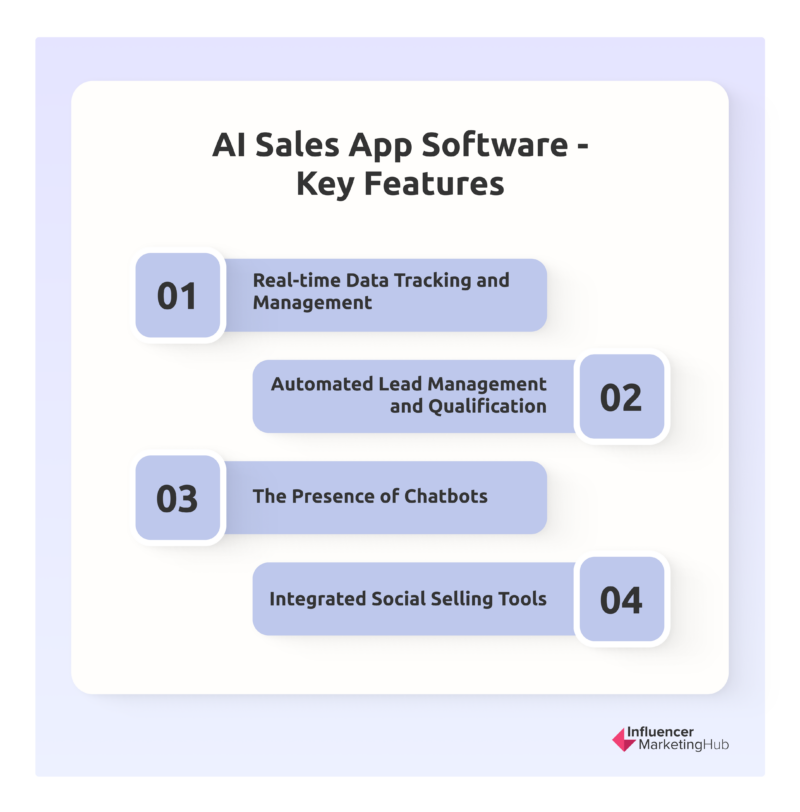 Real-time Data Tracking and Management
This is essential for managers who need up-to-the-minute information on their team's progress. If data management and tracking are fully integrated and automated, sales teams can quickly access their results. AI-generated insights are vital to ensure that the team does not miss any opportunities or potential problems.
Automated Lead Management and Qualification
Lead generation is an integral part of the sales process. Using sales automation tools can make lead management and quoting easier. The software can also manage the lead management process, allowing you to easily record, organize, and analyze sales data. This makes it easy to identify customer trends and make efficient sales decisions.
The Presence of Chatbots
Chatbots are a popular feature of sales software and can help with a variety of tasks, making them a valuable tool for sales teams. They can be used to manage customer interactions, handle orders, and more. AI sales software solutions are also equipped with AI chatbots that can provide a more personalized customer experience. This could come in the form of a live chat or a set of alerts on the interface. Chatbots as an assistant software can make sales management more efficient and effective.
Integrated Social Selling Tools
With AI sales software, you can connect with customers on a more personal level, increasing the chances of closing more deals. The software comes with features like email automation and chatbot marketing that can help you sell your products using engaging and personalized messages. It can also help you optimize your social media campaigns, increasing your conversions.
---
Integration with Other Marketing and Sales Tools
AI sales app software should be easily integrated with other marketing and sales tools. This will ensure that your team is able to access the data they need quickly and easily across multiple platforms. Enterprise resource planning  (ERP) systems and customer relationship management solutions are great examples of this.
Some of the benefits of using AI sales software include easier lead management and data analysis, personalized customer experiences, and increased sales efficiency. By integrating these solutions with other marketing and sales tools, you can create a comprehensive solution that will help your team reach its revenue goals.
Great Customer Experience
An excellent customer experience can be tricky to achieve across all channels, such as online, phone, and in-person engagements. A consistent customer experience across all channels is necessary to ensure a smooth pipeline of opportunities. Thus, sales software should be easy-to-use and intuitive so that sales reps can quickly access relevant information and make decisions without having to conduct a lot of research on their own.
Pricing
Sales platforms that use artificial intelligence do not need to be expensive. However, you should make sure that the features offered by the software are high-quality and useful. Every deal status should be easily accessible, and sales reps should be able to manage their pipeline quickly and efficiently using the software. Consider a demo or a free trial before investing in AI software that includes value-added features such as conversational marketing and sales intelligence, among others. The last thing you need is software that does not live up to your expectations.
---
Final Thoughts
O software de vendas com tecnologia de IA está revolucionando a maneira como as equipes fecham negócios e excedem suas cotas. Essa poderosa ferramenta pode automatizar a qualificação de leads, agendar tarefas, processos de gerenciamento de dados e muito mais, permitindo que os vendedores aloquem mais tempo na construção de relacionamentos com clientes em potencial. 
Isso não apenas ajuda a simplificar os fluxos de trabalho reduzindo as taxas de erro, mas também permite que as empresas atendam melhor seus clientes por meio de um processo centrado no cliente que lhes permite alcançar o sucesso mais rápido do que nunca. As equipes de vendas e marketing devem se beneficiar do software de vendas de IA, portanto, escolha uma plataforma que possa tornar seu processo de vendas mais fácil e eficiente.